STUFF YOUR FACE
While you watch from a safe distance.
PASTIES CAKE AND ICE CREAM
Forget the diet, welcome to Cornwall. Our Pasties are proper Cornish, delivered fresh from Blakes Bakery in Liskeard,. Established in 1979, all their bread, cakes and pasties are made on the premises in Dean Street. Totally authentic Cornish pasties.
The Cornish Ice Cream is made by the Parker family at Callistick Farm, where they've been at it for 25 years. They have their own cows, use their own milk, and add no artificial ingredients. Yummy.
HOT AND COLD DRINKS
You'll need them: it's thirsty work. Great tea, fresh coffee and cold drinks in the fridge. Perfect.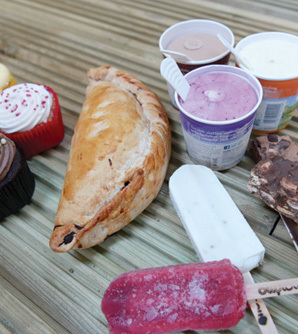 TAKE IT EASY
Adrenalin Quarry is free to enter with a large flat lawn at the east end of our lake. There's shelter from the sun in our marquee and space to spread out and relax...
BRING A PICNIC
Lay a blanket down by the water. Picnic on the cliffs or out on the lake pontoon.
GO WILD SWIMMING
Find the world's smallest beach, dive off the floating platform or just sit on the edge and dip your toes in the water.
SUNBATHE ON THE LAWN
Snooze in the marquee, let the kids play...Unwind
The Lake and lawn are for Adrenalin Quarry customers, we give this part of The Quarry a lot of love and keep it really nice. We need you to respect that, so come on in, have a good time, be kind to the people around you and please take your trash with you. See you down there.