COASTEERING
IN CORNWALL
WITH A TWIST...
Closed until Easter 2019 (subject to water temperature).
Check the shop for your preferred dates or call 01579 308 204. Coasteering at Adrenalin Quarry is unique. We've got The Blob. Your friend sits on the end of a 12x3m inflatable tube. You climb up the floating tower and jump onto the tube. Your friend flies up, then plummets down. Get ready, you're next.
We're the 1st Cornwall coasteering venue where children aged 10+ are welcome. Go wild swimming, traverse rockfaces, climb sheer cliffs and jump into the lake. We're AALA registered (L9427/R1954), there's a safety boat on the water and our instructors guide you all the way.
WHY ADRENALIN QUARRY = THE #1 COASTEERING IN CORNWALL VENUE
We're the best coasteering venue in Cornwall for families & thrillseekers alike because everything's challenge by choice. Push yourself only as far as you want on jumps that start timid & end insane. Freshwater Coasteering offers the excitement of sea coasteering with none of the hassle.
Your session will NEVER be cancelled at short notice due to tides or weather
We don't share our cliffs with any other operators so there's no overcrowding
Whatever the conditions, we'll tailor a coasteering session to suit all skill levels. (You must be 10 or over and able to swim 50m unaided.)
COASTEERING SESSION FORMAT
Kit up in quality equipment: heavy duty wetsuit and boots, buoyancy aid, crash helmet and harness • Introduction, safety briefing, learn jump techniques • Wild swimming across the lake • Build your traversing skills and confidence • Nail all the jumps until you go toe-to-toe with The Widowmaker and The Blob. There's a lot to fit in so you have to book in advance AND turn up on time.
ANY RESTRICTIONS?
We keep our coasteering sessions accessible. To try the best coasteering in Cornwall, you need to be 10 or over and able to swim 50 metres unaided.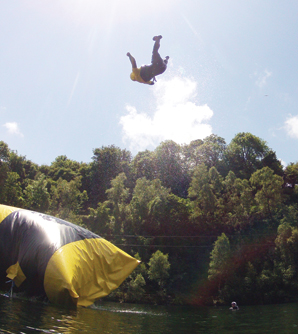 CORNWALL COASTEERING
AT ADRENALIN QUARRY
Cornwall deserves its reputation as the UK's hottest destination for coasteering. From Newquay and Padstow on the north coast to Penzance and Looe on the south, coasteering has become a major attraction for tourists seeking adrenalin sports adventure. Why is coasteering in Cornwall so popular? With its dramatic surroundings, (relatively) warm water and numerous outdoor adventure centres and parks, a surfing and watersports culture has blossomed in recent years – attracting some of the UK's top adrenalin sports instructors to settle here – and share their wisdom with tourist and local alike.
SAVING THE SCARIEST TILL LAST…
WE THOUGHT WE'D BETTER MENTION:
THE WIDOWMAKER
10M (33FT) FROM LEDGE TO LAKE,
IT'S THE UK'S HIGHEST SUPERVISED
JUMP & REASSURINGLY OPTIONAL
For undaunted, vertigo-free souls, there's always the ultimate challenge. Go toe-to-toe with the big one. Let the instructors know when you're ready. If they give you a knowing smile in return, remember: you've been warned.
AND THE BLOB
Be part of our inflatable water-borne human catapult, the only one in the country. Get fired into the air by your friends and make a splash here with us in Cornwall.
EXPERIENCE VERTICAL
TAKE OFF & LANDING
Instructions for The Blob: Place friend on 12x3m inflatable extreme bounce tube. Climb tower. Jump onto tube. Laugh manically as friend shoots up into the air and back down into water. Gulp. You're next.
CORNWALL STAG & HEN PARTIES
AND TEAM BUILDING
Adrenalin Quarry is a breathtaking venue for stag parties & team building. Give us a call & we'll set up a session you won't forget.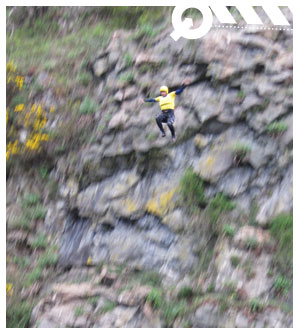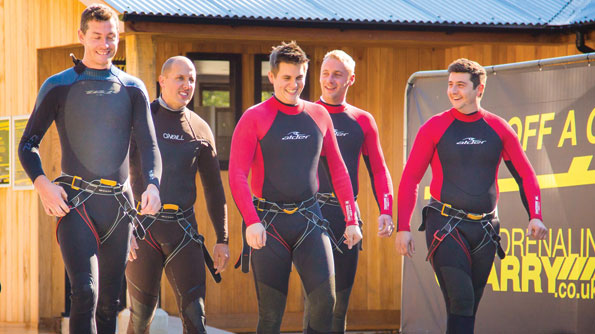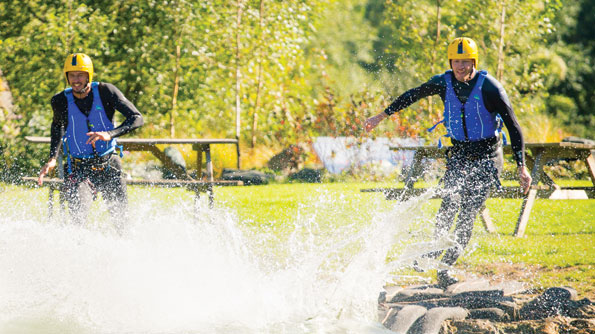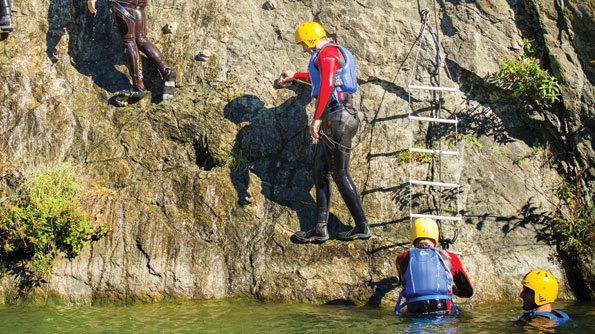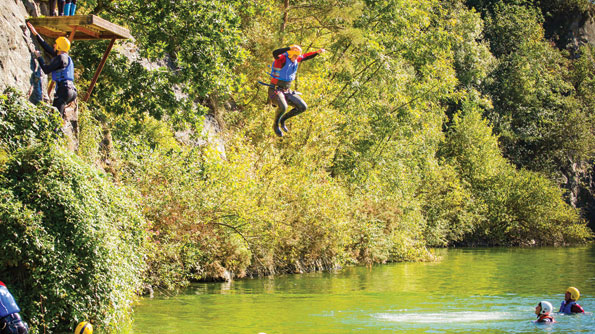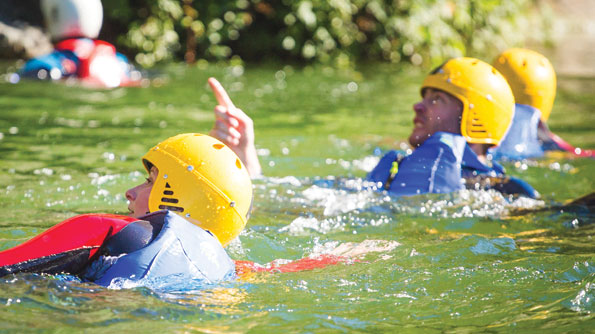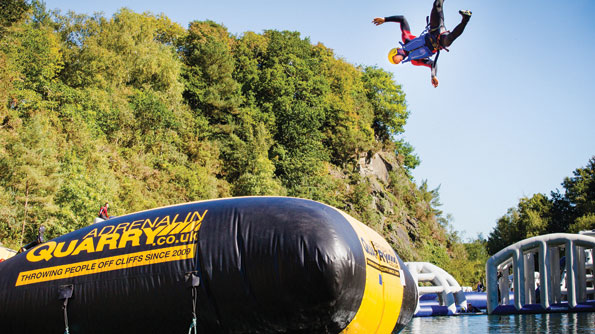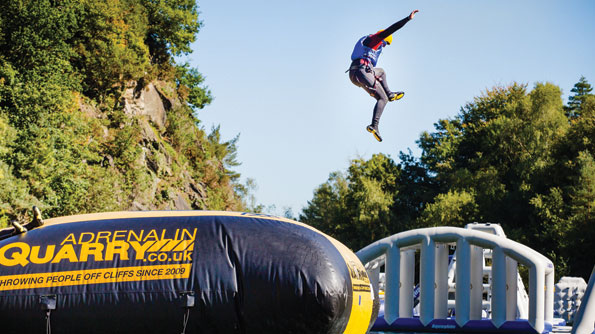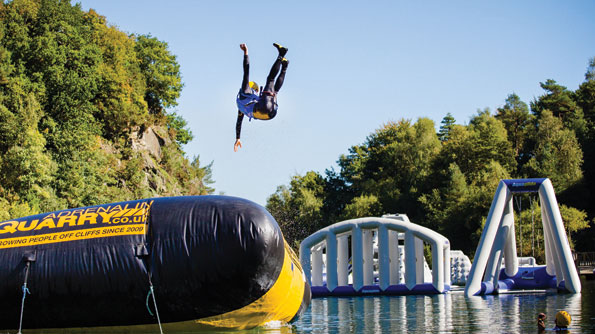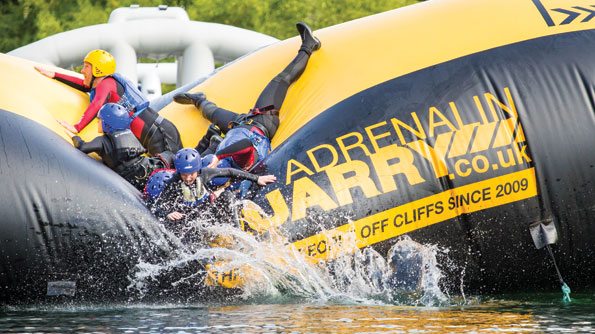 Freshwater Coasteering at Cornwall's Adrenalin Quarry is a no-holds-barred adventure. Explore a rugged wildlife haven, traverse sheer cliffs, swim in the lake & 'tombstone' safely in a series of cliff jumps that start timid but end insane.
£40 per person, per session, including all the kit, an experienced coasteering guide & 2-3 hours wild swimming, traversing & jumping. When you can't take any more you'll head for The Blob, which is the final part of every Adrenalin Quarry Coasteering session.
Min age limit is 10. No maximum limit.
You must be able to swim 50m comfortably and be in general good health to take part in our coasteering experience.
Not at Adrenalin Quarry's sheltered inland lakes and cliffs. We never close because of the weather so you're guaranteed a reliable adventure. Just turn up, get your gear on and you're ready - no long treks before you start.
No. This is challenge by choice. You jump as high and as much as you feel happy with. We have a whole series of jumps that cover all abilities. There's no pressure from us to do the big ones: the emphasis is always on fun.
Are you kidding? We offer The UK's Highest Supervised Jump, plus The Blob lives, breathes and devours the innocent right here in the lake. Grown men turn to jelly when they face The Widowmaker, and they bow before The Blob. It's as scary as you want us to make it and guaranteed to sort the best men from the bridesmaids.
Definitely. Just take a look at the photos.
Absolutely. This is as scary as it gets. And the scenery's not bad either.
Safety is our top priority. You're always with experienced guides & every session is overseen by BCF/SLSGB instructors. All adrenalin sports involve some element of risk, but we go out of our way to keep this to a minimum.
Wearing glasses is not recommended. We advise disposable contacts.
We provide all the gear, including superwarm wetsuit and boots, buoyancy aid, harness and helmet. It's state-of-the-art stuff but feel free to wear your own wetsuit or boots if you prefer.
A towel, swim gear and refreshments (it can be thirsty work!)
Max 20/Min 4 in a group. We try to hook up singles and small groups with other groups. If your group is 20+ call us.
Location:
Liskeard, Cornwall
Highest Jump:
The Widowmaker


10M (33ft)

Potential energy at top
25kJ *
Depth of Lake:
22m
No of jump spots:
10
Minimum age:
10 years
Oldest so far:
56 years
Impact speed:
22m/s (50mph)
Total cliff height:
55m
* Enough to power a 40w lightbulb for 10 mins