ADRENALIN QUARRY
BIG RIDES FOR ALL AGES
Unique gravity park, water park & race track with spectacular views and picnic spots, free entry and wild swimming.
WIPE OUT AT AQUAPARK
FOR 6 YRS+. Climb, jump, slide & bounce in our huge inflatable playground. Get wet & go wild on extreme trampolines, monkey bars, swings & more. >>Book Online
GO KARTING!
FOR 7 YRS+. Arrive & drive adult, youth & junior karts on the 800m all weather track. >>Book Online
FLY DOWN THE ZIP
Jump off a cliff on the UK's maddest zip wire. 50m high, 490m long. Turn up and get thrown off a cliff or Book Online
RIDE THE GIANT SWING
Go from sky high to freefall on our clifftop swing 150ft above the lake. Just turn up & freefall or Book Online
TRY AXE THROWING
FOR 12 YRS+. Like darts, but with axes. Unleash your inner savage and get busy hurling axes. >>Book Online
"Adrenalin Quarry made me Adrenalin Junkie!!!!"
I visited Adrenalin Quarry on a whim while staying in Plymouth. The swing and the zip wire was so enjoyable, but the swing was a highlight. The view is absolutely incredible and the terror that grips you is a great feeling (to look back on)! After the swing, and feeling as though I could conquer anything, we went on the zip wire. We also got a nice video and photos of the zip wire which are priceless.
RATING: * * * * *
Backpackingjetsetter, TripAdvisor, Nov 2013
"Blobtastic!!"
Such a great day coasteering and experiencing the blob!! I booked this for my partners 30th and we both thoroughly enjoyed the experience!! Great value for money and fantastic instructors. Thanks so much. So good to be able to view all the pictures on Facebook too! :-))
HappyLas_83, TripAdvisor, Oct 2013
"AWESOME"
TOTALLY AMAZING! The zip wire was so good we did it 3 times, the people running it were brilliant they were friendly and good fun but so safety consious if you want a great day out this is the place to go i will be going again and trying out the coasteering and the blob as well as the zip wire again. Thanks guys me and my friend shiela had a blast :)
Nicki1918, TripAdvisor, Sept 2013
"Throw your kids off a cliff with a big smile on their faces !:)"
We visited this venue and were very impressed, four of us rode from my 40 yr old 6ft 4 husband to our tiny 5 year old son, staff were very professional and informative, brilliant with very excitable children with lots of what if questions :)!!!
The views are lovely and we even enjoyed a swim in the quarry afterwards the kids are still telling the James Bond style stories to their friends! It was a very worthwhile experience and yes it's over quickly but it is a more memorable experience than any boring theme park ride, it is exactly that an experience and one our children will remember for a long time and isn't that what holiday memories are made of? It is well built, picturesque, clearly priced and run by educated and conscientious staff we made a full afternoon of it with the swim and picnic,well worth the visit thank you.
Booty123, TripAdvisor, Aug 2013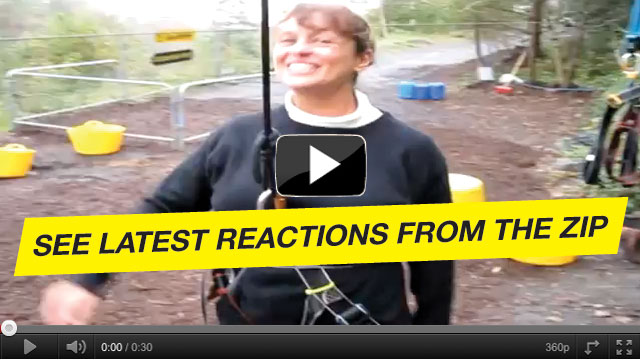 Simon and I visited (at last!!!) to 'Zip' and 'Swing' at the Quarry....spectacular surroundings, well organised and fun experience. The staff were really helpful and very well informed, and the weather was stunning. A great event
Kate, Trip Advisor, July 2013
'What a day. Just pure magic.'
'Had a brilliant afternoon. We only managed to do the Zip Line but this was a brilliant experience and I hope to return to soon for the coasteering. I would recommend you spend time on the lawn at bottom of quarry swimming or lazy around as its an excellent place to relax. We watched some 15 people enjoy the coasteering and they all said they had a brill experience. They are also dog friendly.The staff would score 10\10, could not have been more helpful. Best day of our holiday so far.'
Tom, Caroline & Takara the dog from Scotland Trip Advisor, July 2013
'Fabulous'
I never dreamed I would summon up the courage to go on the zip wre. But my son (25yrs) wanted to go, so I thought ' well you only live once!' so me, his mum, went too. Amazing, absolutely fabulous - what an adrenalin rush. Would love to do it again. Staff were great and the location and facilities clean and friendly - highly recommend a visit!
JanetteIsleofMan, Trip Advisor, July 2013
Rating: * * * * *
Visited last friday (12th) to do the swing, zip and coasteering! staff were awesome had lots of fun and have already recommended to friends. Cant wait to see the coasteering pics!!! C
Christina Faulkner, Facebook, July 2013
Rating: * * * * *
I took my daughter zip wiring for her 12th bday with 8 friends on sat 8th june, she is a wheelchair user and so is one of her friends. The staff who helped us were fantastic, they managed to get both the girls onto the zip and they loved it. I really want to thank them for their positive, friendly and enthusiastic approach. Will def go again and would recommend it.
Dawn Cook, Facebook, June 2013
Rating: * * * * *
Awesome experience!! Highly recommended to everyone! Massive thanks to Joe and Bryany for a brilliant family memory Jack Rosie Steve and Cathy!!
Cathy Stores, Facebook, May 2013
Rating: * * * * *
What a fantastic day! Staff are SO helpful, nothing is too much trouble. 10/10, recommend to everyone!
Sarah Mummy Hughes, Facebook, May 2013
Awesome!!!!!! massive adrenalin hit. Biggest rush I've had in UK.......Do the zip wire then the quarry jumping coasteering session. Cornwall rules
Perran, Bude, 2010
I went down last year. Flying down the ZIP is one of the best things to do in Cornwall if your on holiday there.
SarahH66, YouTube, May 2010
I did surfing and zorbing and coasteering and loads of other stuff when I was on holiday in Cornwall. Loads of people told me though, one of the best things to do was jumping off the zipwire. Didn't get round to it, but it looks amazing. deffo next time
Haha I live right near here. I've been on it and this zipwire is awesome!!
NuttyFruitcake14, YouTube, Feb 2010
My brother did this with his wife and LOVED it. I haven't had chance to do this, so anyone who does have the chance do it for me! Thanks... I will be jealous.
Rachel7670, YouTube, Nov 2009