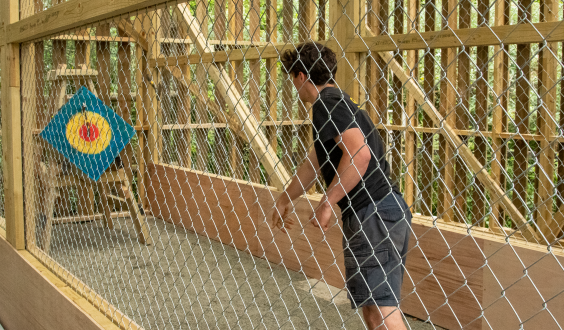 CREATING MORE GOOD STUFF EVERYWHERE
Last year we added Ninja Stars to the arsenal, this year we've built you an all-weather Axe Throwing arena where you can throw even more deadly weapons for fun... Hello rainy days! All this for £15pp.
NEW popular items on our menu tried & tested by you: Delicious Cream Teas with locally-sourced scones, Roddas cream, classy jam & a drink for only £3.50. Tasty hot soup & a rustic roll to keep you warm on chilly days.
SOMETHING TO JUMP UP & DOWN ABOUT!
Kicking off a massive 2022, this Easter we opened our biggest Aquapark at 2800sq metres. Fully inflated, anchored & ready for the hundreds of beautiful people who clambered all over it every day in the Easter school break. All that and 12,000+ rides nailed all over the quarry has kept us on our toes.
We're open every day until the end of September so get on it by booking in advance to make sure you get the slots you want.
IN OTHER NEWS...
OUR LATEST TIKTOK IS AT 750K and climbing…! You'll want to see this.
BREAK SOME RECORDS We need your fastest laps! Get your name in the rankings and show us what's what with Youth/Ladies/Devon & Cornwall and Rest of the Planet divisions. Climb in a kart & get some!
AIDAN HESLOP, the youngest ever diver in the Red Bull World Series and current FINA #1 world cup qualifier trains right here at Adrenalin Quarry. Read his story in our #miniseries.
AWESOME SCHOOL DAYS OUT Schools are already here for 2022 & we love hosting you! If you're looking to bring your students to the quarry, we'll help design a day for you: Contact us