UK'S MADDEST ZIP WIRE
FLY 40MPH OVER OUR LAKE
Soar 50m across the flooded quarry at speeds that'll get your heart pumping. There's nothing like it in the UK and it's suitable for all ages. Turn up and jump, or: >>Book your tickets.
THE GIANT SWING
DEFY GRAVITY 150FT OFF OUR CLIFFS
Go from max G to pure freefall on our super-
sized swing. Our 1st customer was 5 years old. If he can do it... >>Book your tickets.
QUARRY COASTEERING
GO OFF THE DEEP END...
No-holds-barred wild swimming, climbing & tombstoning for ages 10+. Now with The Blob! >>Book your tickets.
NEW AT THE QUARRY
REPLAY YOUR RIDES!
Our new video system captures your cliff jumps and Giant Swing rides then posts them straight to your Facebook page and email.
REFUEL AT THE RETOX CAFE
Drink: good coffee, strong tea, hot chocolate, cold cans. Eat: homemade cakes, flapjacks, brownies & crisps. Unwind & enjoy the view.
WALK ON WATER, BRING A PICNIC
Go out on the lake on our new pontoon as people fly past on The Zip. Spread out by the water. Go for a dip. Bring your own food.
LEARN TAI-CHI
Sessions by the lake 11am-12.30pm, Tues/Wed/Sun >>Book here
THINGS TO DO IN
CORNWALL #1:
VISIT ADRENALIN QUARRY
Straight after opening in 2009 we topped the national press lists of things to do, family days out & activities in Cornwall. The Times, The Guardian and The Gadget Show all agree: if you're looking for things to do in Cornwall, start here. And in 2010, we became an approved venue for Cornwall Council's school holiday activity programme...1001 kids and counting can't be wrong. Press reviews below:
Guardian.co.uk, July 2011
Independent.co.uk, Jan, 2011
Guardian Travel, Oct 2010
Times Online Jan 2010,
The Gadget Show, August 2009
THINGS TO DO IN
CORNWALL #2:
Try Freshwater Coasteering in Cornwall's most beautiful quarry. Coasteering in our quarry is an adventure unlike any coasteering you've tried before – in Cornwall or anywhere else for that matter.
Visiting Adrenalin Quarry is like finding yourself on the set of Jurassic Park. Dramatic cliffs loom over a deep lake, birds scatter as you smack the surface of the water. As with all our adrenalin activities, we've pushed the boundaries of the sport but made it as accessible as possible. So, our coasteering sessions involve wild swimming, tombstoning, an encounter with The Blob and climbing your way across our beautiful Cornish quarry in a truly exhilarating coasteering experience.
The emphasis is always on adrenalin and creating an adventure to remember, whether you're 10 or 100, timid beginner or fearless adrenalin junkie.
>>More Coasteering in Cornwall
THINGS TO DO IN
CORNWALL #3:
Fly down The UK's Maddest Zip Wire. It's been highlighted as the top adrenalin attraction in Cornwall for good reason. It's nearly half a kilometre long, 50 metres high and you reach speeds up to 40mph! Best of all, this adrenalin activity is suitable for all ages – so far we've had people as young as 4 and as old as 93 jump off our cliff. So, families and thrill-seekers all welcome…
>>More on Cornwall's Zip Wire
DO IT ALL IN A DAY
AT ADRENALIN QUARRY
There's more to Adrenalin Quarry than getting thrown off a cliff. The park is safe and fun for families but thrilling for adrenalin junkies. That's why we're consistently featured in 'best things to do in Cornwall' lists in the national press.
In 2010, we built a play park and a picnic area with views of the lake. In 2011, we built The Giant Swing and more viewing decks. In 2012, we built The Blob, and new toilet blocks. We want to keep you comfortable before (and after) we get your nerves jangling. In 2013, we added a pontoon, a cafe & a video system.

Multiple attractions on site
Jump off The Zip - UK's Maddest Zip Wire
Conquer The Widowmaker (Coasteering)
Ride The Giant Swing
Relax on the lawn
Dive off the pontoons
Deep water unsupervised swimming
Go Karting at Kartworld
Stunning views
Amazing wildlife and birdwatching
Picnic area overlooking the lake
Viewing platforms: see the cliff jumpers
FREE entry, parking & kids playpark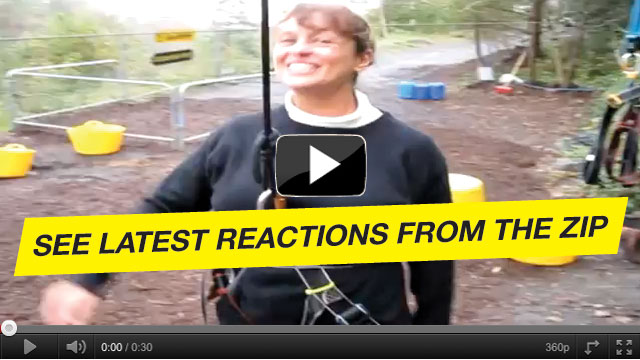 Simon and I visited (at last!!!) to 'Zip' and 'Swing' at the Quarry....spectacular surroundings, well organised and fun experience. The staff were really helpful and very well informed, and the weather was stunning. A great event
Kate, Trip Advisor, July 2013
'What a day. Just pure magic.'
'Had a brilliant afternoon. We only managed to do the Zip Line but this was a brilliant experience and I hope to return to soon for the coasteering. I would recommend you spend time on the lawn at bottom of quarry swimming or lazy around as its an excellent place to relax. We watched some 15 people enjoy the coasteering and they all said they had a brill experience. They are also dog friendly.The staff would score 10\10, could not have been more helpful. Best day of our holiday so far.'
Tom, Caroline & Takara the dog from Scotland Trip Advisor, July 2013
'Fabulous'
I never dreamed I would summon up the courage to go on the zip wre. But my son (25yrs) wanted to go, so I thought ' well you only live once!' so me, his mum, went too. Amazing, absolutely fabulous - what an adrenalin rush. Would love to do it again. Staff were great and the location and facilities clean and friendly - highly recommend a visit!
JanetteIsleofMan, Trip Advisor, July 2013
Rating: * * * * *
Visited last friday (12th) to do the swing, zip and coasteering! staff were awesome had lots of fun and have already recommended to friends. Cant wait to see the coasteering pics!!! C
Christina Faulkner, Facebook, July 2013
Rating: * * * * *
I took my daughter zip wiring for her 12th bday with 8 friends on sat 8th june, she is a wheelchair user and so is one of her friends. The staff who helped us were fantastic, they managed to get both the girls onto the zip and they loved it. I really want to thank them for their positive, friendly and enthusiastic approach. Will def go again and would recommend it.
Dawn Cook, Facebook, June 2013
Rating: * * * * *
Awesome experience!! Highly recommended to everyone! Massive thanks to Joe and Bryany for a brilliant family memory Jack Rosie Steve and Cathy!!
Cathy Stores, Facebook, May 2013
Rating: * * * * *
What a fantastic day! Staff are SO helpful, nothing is too much trouble. 10/10, recommend to everyone!
Sarah Mummy Hughes, Facebook, May 2013
Awesome!!!!!! massive adrenalin hit. Biggest rush I've had in UK.......Do the zip wire then the quarry jumping coasteering session. Cornwall rules
Perran, Bude, 2010
I went down last year. Flying down the ZIP is one of the best things to do in Cornwall if your on holiday there.
SarahH66, YouTube, May 2010
I did surfing and zorbing and coasteering and loads of other stuff when I was on holiday in Cornwall. Loads of people told me though, one of the best things to do was jumping off the zipwire. Didn't get round to it, but it looks amazing. deffo next time
Haha I live right near here. I've been on it and this zipwire is awesome!!
NuttyFruitcake14, YouTube, Feb 2010
My brother did this with his wife and LOVED it. I haven't had chance to do this, so anyone who does have the chance do it for me! Thanks... I will be jealous.
Rachel7670, YouTube, Nov 2009
No. Entry is FREE. Many people drive up just to take a look around and watch the jumpers and the coasteering from our spectacular viewing platform on the cliff's edge.
Absolutely. Children are our most fearless customers! They dive off The Zip and ride The Giant Swing everyday and love it. Last year, our youngest jumper was only five years old. However, if you prefer driving to diving, right next door is Kartworld,
Cornwall's top go karting centre. We also have a picnic area where families can sit down, take in the views over the lake and watch the jumpers and now there's a play area for the kids, too.
Yes. We do tea, coffee, cold drinks and cake at the Retox Cafe. You can also bring a picnic, and if you want a drink you can go to the tap. Hot drinks and snacks are available at Kartworld (onsite). There are also a number of good pubs, restaurants and diners nearby.
Groups can book our gourmet packed lunches and pick them up from the Retox Cafe. Just let us know your requirements and we'll get you fed on the day.
Yes. We've gone out of our way to provide a genuinely thrilling experience that gets your heart pumping without compromising on safety. There are regular safety checks across the site, daily equipment checks and replacement well within the recommended time limits. We only use state of the art gear: Petzl pulleys, tri-lock karibeners, 13mm climbing and caving rope lanyards, DMM harnesses, and Kenwood handheld radios. When better equipment becomes available, we'll use it. This is why families AND adrenalin junkies alike keep coming back to us. Big thrills, no spills.
We welcome all types of people, from the truly nervous to the gung-ho. Our instructors are friendly and reassuring and are really good at calming the jitters. So much so, that we often find that the people who start off gulping at the start are soon rushing back for more. If you really don't fancy it, you can relax with a coffee in hand and watch the jumpers on our nice, solid viewing platform overlooking the quarry lake.
Yes. Last year, we had many wheelchair users and people with disabilities jump down The Zip. Please ring in advance to book your tickets and discuss your needs.
Yes.
It's 22 metres at its deepest point. For imperialists, that comes in at 72 foot and 2 inches.
Sure - we've just fitted a brand new video system. You can also take photos yourself. Here's how: as you jump, keep one hand on the rope, hold your phone/camera in your free hand, hold your arm straight so the lens is looking at you. You can get really excellent footage to take away with you as a memory or share with friends. >>Take a look at all the stuff on youtube