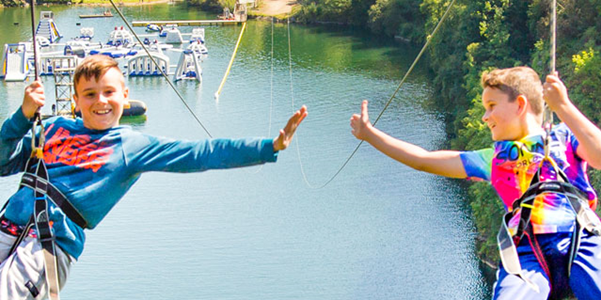 It's 2020: How can I feel better?
Part one: Connection.
If you're reading this, you are either:
Looking for a way to feel better in these unprecedented times.
Looking for local things to do that might also improve your wellbeing.
Browsing this blog in a fond haze of memories, yearning to once again, belly flop your way around the aqua park and zip and swing yourself into a state of frenzied delight here at Adrenalin Quarry.
The good news is, I don't think it matters which option you chose. That's because this article is the first in a five-part series that contains practical, evidence-based advice to help you find your groove again in these strange times, as well as some regional tips for locals and tourists alike.
The '5 Ways to Wellbeing' toolkit is the result of a research study undertaken by the New Economics foundation in 2008, aimed at identifying the key things that contribute to our wellbeing. It has been used widely in NHS mental health trusts and by national charities such as Mind, as well as in schools across the country.
The research reviewed 400 scientific papers and found that 5 things kept cropping up that made people feel good. They were:
Connection
Be Active
Take Notice
Keep Learning
Give
This post focuses on connection and looks at why we need it, how we can get it (in the midst of a global pandemic), and which local activities are likely to facilitate the best kinds of connections.
According to scientist and author Matthew Lieberman, our need to connect is as fundamental as our need for food and water. Science also tells us that all mammals, big and small, are wired for connection and are profoundly shaped by the social environment around them. For us humans, social pain in the form of a snub or cruel word has been shown to be experienced as creating the same distress as physical pain in the brain. This is because we have evolved to find things that would threaten our survival deeply unpleasant, demonstrating how social connection has always been a necessity, not a luxury. According to research, social support and remaining connected to people is also one of the biggest protective factors for facing adversity and building resilience. Even recalling memories of feeling supported and loved has been shown to lower stress!
In case you're still on the fence about the importance of this stuff, failure to maintain good friendships over time is listed as one of the top 5 regrets of the dying. So even if you consider yourself young and kicking, prioritising people who make you feel shiny inside will always be a good idea. But perhaps with Covid-19, the last year has got you thinking? About life, about death and about the important things. It certainly has for me and has made me appreciate the simple moments of connection with family, friends…and cats.
This is what living through the Coronavirus era can give us- a perspective that we didn't have before- on the things that really matter. Before lockdown measures came in, many of us probably took our social connections and relationships for granted, not realising as we hugged our friends after a night out, or kissed a family member goodbye, that it might be months until we see them again.
Since measures have eased (for now), its crucial to spend quality time with those around us in a way that respects the safety and wishes of others. And choosing local activities that facilitate an especially positive connection with our loved ones is also essential right now.
Here are 3 ideas, handpicked to bring out the mammal in you:
1.The monkey sanctuary
Well duh! What better way to rekindle that connection to our primal instincts of nurture, than to watch monkeys lovingly remove and eat lice off each other? Nestled between Seaton and Looe this charity has been looking after our primate cousins since 1964 and is an inspirational expression of animal care and welfare. This a wonderful day out for families, offering a chance to learn from and about several species.  When sufficiently inspired, the wild play area then offers a space for kids and adults alike to let off steam and monkey about.
*Please note, removing and eating lice, fleas, ticks or any other parasite off your loved ones is not recommended.
If you want to feel deeply connected to your loved ones, why not watch them fling themselves off a cliff? As you see them hurtling down one of the UK's longest zip wires, you'll soon forget the argument in the car and any other niggles. You may even experience moments of deep care and concern as you wonder if they will make it over the lake in one piece. But fear not, the rides are high quality, safe, and well operated. The staff are trained, capable and friendly. Then, as you watch them land (sometimes) smoothly at the other end, you might feel your heart expand with relief and be filled with gratitude for their presence in your life. Located just off the A38 somewhere between Liskeard, Plymouth and Looe, it could be just the ticket for an exhilarating reminder that they aren't so bad after all.
*Please note, Adrenalin Quarry is not a substitute for marriage counselling.
3. Wild Camping
Ordinary life is filled with people, things and mysterious forces that distract us from what truly matters. If you want to strip away the crap and get back to basics with family and friends then I recommend one of Cornwall's wild camping sites. Make it simple: Turn your phone off and your senses on. Spending this kind of quality time in nature with friends and family can ignite what's known as 'biophilia'- a love of living things-which in turn has been shown to indicate higher happiness, vitality and life satisfaction.
A final note before wrapping things up. Wellbeing is only possible when our basic needs are being met. Unfortunately, many people's most basic needs are not being met at present times. It's important not to place all the emphasis on individual choice and responsibility when discussing wellbeing, since the vast structural inequality in this country means that the most vulnerable of our society have been hit hardest by coronavirus.
But the good news is, we consistently underestimate the impact that we can have on others, even strangers. Simple acts like a friendly chat, helping hand or genuine smile can make a big difference in someone's day. So let's connect with those we love, as well as safely reach out to someone who is isolated or struggling in a positive way.