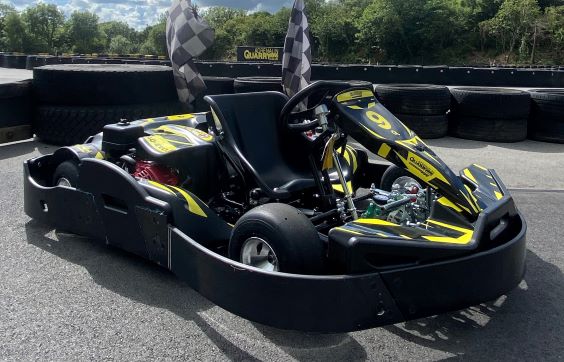 BIG UPGRADE FOR LITTLE DEMONS
A fleet of BRAND NEW Junior Biz Karts hit our Race Track last month. Now with smaller chassis for better pedal reach & more control, get a safer ride and look like a pro. Move over Max! Book your juniors in now (7-9yrs).
ALL DAY DnB PARTIES
Last weekend we had 500 people, 18KW of Turbosound & 9 hours of big beats from the best names in Drum & Bass... It's all about the music. We know how to show you a good time and we're cranking it up again: August Bank Holiday Sunday: 28/08/2022 13:00-22:00. 2SME AT THE QUARRY: CAMO & KROOKED, LSB & DRS, UNGLUED B2B WHINEY + MORE. Tickets on sale now at FIXR.
IN OTHER NEWS...
GET ACTION SHOTS WITH AQUA PHOTOS. Hi-res professional pictures from every session. Try before you buy at the Aqua Photo gallery.
DRY OFF IN STYLE with our Adrenalin Quarry towels now on sale.
WE'RE NOT SHY. You'll see us at train stations, petrol pumps, and services down the M5 as we get ready to welcome you lovelies here this summer!
TAKE YOUR PICK! Paninis, Loaded Nachos, Cream Teas new for 2022.