WE FILM YOUR RIDES.
VIDEO PASS: £5.00
New cameras for 2015 bring sharper images and better footage
Buy a video pass (one between two if you're with someone you know!) with your tickets at reception on the day.
In reception, register your pass on our system, then we can text a link to your phone, email you the link and post to your Facebook.
Do your thing, Jump off a cliff. The cameras do their work. One pass does all your rides.
See yourself on the big screens at The Quarry, or watch your videos on your phone as soon as you land.
Your videos are also posted straight to your facebook timeline (only if you want!).
You can email or text the links anywhere.
Get stills and videos anywhere. Just enter the number on your wristband into the box at jumpoffacliff.co.uk and either click 'download' or right click on the image/video and select download.
The following pages show just a few of the thousands of people who used a video pass on their rides in 2014...
STUFF YOUR FACE
While you watch from a safe distance.
PASTIES CAKE AND ICE CREAM
Forget the diet, welcome to Cornwall. Our Pasties are proper Cornish, delivered fresh from Blakes Bakery in Liskeard,. Established in 1979, all their bread, cakes and pasties are made on the premises in Dean Street. Totally authentic Cornish pasties.
The Cornish Ice Cream is made by the Parker family at Callistick Farm, where they've been at it for 25 years. They have their own cows, use their own milk, and add no artificial ingredients. Yummy.
HOT AND COLD DRINKS
You'll need them: it's thirsty work. Great tea, fresh coffee and cold drinks in the fridge. Perfect.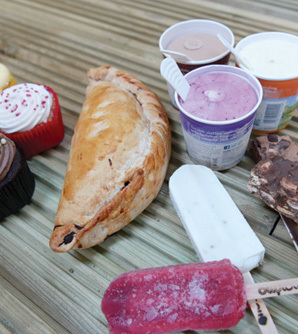 BOOK YOUR BBQ
Call us on 01579 308 2014
Cook great food on charcoal and eat it down by the lake. Just choose a date and time to pick it up, we'll do the rest.
When you come we'll give you everything you need for an epic BBQ: A Quarry Bucket, Charcoal, Firelighters, Matches, Plates, Cutlery, Napkins, Tongs AND idiot proof instructions (we hope).
The meat comes from local butchers Paul Bray & Son in Tideford and the all rest from our local market town Liskeard.
Everybody gets a fresh Brays Butchers' sausage & burger with a bun, slice of cheese, salad & ketchup/mayo for £7.50pp.
Kids BBQs: They'll each get a Brays Butcher's burger, bap, cheese & juice for £4.50
Extra Large BBQs: You'll get a chicken breast fillet, two sausages and burger, all from Brays, a bun, slice of cheese, salad, coleslaw plus your ketchup/mayo and a drink for £11.50pp.
Pig out with us in the great outdoors!
TAKE IT EASY
Adrenalin Quarry is free to enter with a large flat lawn at the east end of our lake. There's shelter from the sun in our marquee and space to spread out and relax...
BRING A PICNIC
Lay a blanket down by the water. Picnic on the cliffs or out on the lake pontoon.
GO WILD SWIMMING
Find the world's smallest beach, dive off the floating platform or just sit on the edge and dip your toes in the water.
SUNBATHE ON THE LAWN
Snooze in the marquee, let the kids play...Unwind
The Lake and lawn are for Adrenalin Quarry customers, we give this part of The Quarry a lot of love and keep it really nice. We need you to respect that, so come on in, have a good time, be kind to the people around you and please take your trash with you. See you down there.